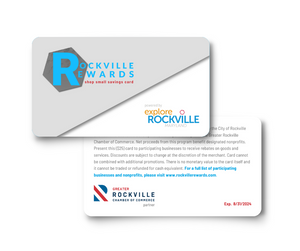 Rockville Rewards is a shop small initiative supported by the City of Rockville and Rockville Economic Development, Inc. in partnership with the Greater Rockville Chamber of Commerce.
Launched in 2010, Rockville Rewards encourages cardholders to support participating local businesses, and the best part...Net proceeds of the program sales are donated and split evenly amongst all that participate.
Physical cards are mailed // virtual cards will be e-mailed and can be added to Android or Apple Wallets and can be purchased here.